Taps and Shower Heads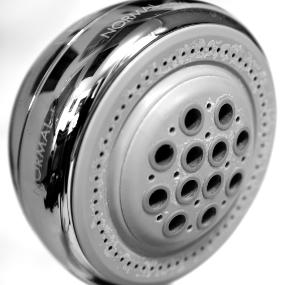 When building a new home choose water efficient fittings for all your taps and showerheads. There are numerous tap fixtures that reduce water wastage including taps that have in-built flow regulators. You can also easily install flow restrictors or aerators to most taps for a low cost. A lot of water is wasted trying to get the temperature right. To stop this waste, install mixer taps, which allow you to pre-select your temperature.
A water efficient showerhead costs the same as conventional showerheads but save hundreds in water bills and can come with additional features such as massage, self-cleaning and flow cut-off control. Inefficient showerheads can use more than 15 litres per minute; a four-star rated showerhead uses 7 litres per minute.
The Water Efficiency Labelling Scheme (WELS) shows the consumption of water by appliances. The label gives products and appliances a star rating from one to six and also provides a number that shows the comparative water consumption in litres. The labels will be on the product or packaging to allow you to compare when you are purchasing.
If you are connected to the mains grid the Victorian Government offers a rebate of $20 for each 3-star shower head that costs more than $100 and $10 for a three-star shower head between $30 and $100. Also contact your local council or water retailer about free shower head exchange programs and discounts on water efficiency products.